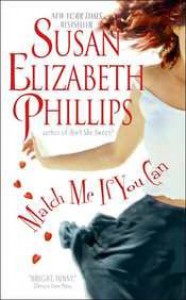 4.5 stars
Now this was a really fun read. I just devoured this book from beginning to end. This reminds me once again why I love Contemporary Romance. I know there are some who can pull it off and not make it so one-dimensional, corny and cliché. There is more to Contemporary Romance then just 'chick lit' as some call it and this is the perfect example. SEP is so great at putting together fun humorous stories with some dark edge thrown in there with really great witty life-like characters. This is part of the Chicago Stars series, here we are introduced to Annabelle Granger a petite free-spirit woman trying to make a success of her grandmother's Matchmaking business she has taken over. Her first client, Heath Champion is her biggest challenge. Heath Champion is the most successful Sport Agent who's a workaholic, no nonsense kind of guy who's looking for the 'perfect' trophy wife to fulfill his life goal.
I loved Annabelle. She was so much fun and so different. It's another reason why I love SEP, she doesn't give you cookie-cutter heroines. She gives you quirky almost 'odd-ball' women who come with their own personality and then some. They are all unique and stand on their own. And Annabelle is definitely unique, I just adored her. Annabelle was so adorable, she's got a great sense of humor, charm and sweet personality yet some sass that was so much fun to see her get fired up around a bunch of rough tumbling intimidating macho football players. That scene at her house where Heath checks up on her and she's alone with 2 rivalry football teams taking up her entire house. Hilarious. It was such a stand out scene and I loved every minute of it. There is also a ton of snarky banter that I couldn't get enough of. The dialogue is so great in this I forgot how much I loved this series. Her and Heath going at it with no pause was really great. The comical timing is perfect. They just came to life and I thought they were really sweet and sorry to say it again but...adorable together.
Heath was a pretty complex character. I was expecting some edge and darkness somewhere in this and Heath definitely brought it. I loved him from the start, arrogance, brooding attitude and cold demeanor and all. Annabelle sure did turn his world upside down and I loved every minute of it. Loved how she slowly showed him how to bring his guard down and to enjoy life more. The constant teasing and witty banter between them was really endearing and I loved the Tinker Bell nickname he gave her. It really did suite her perfectly. Heath definitely didn't have an easy childhood, far from it. He grew up in a trailer park with an alcoholic negligent dad. It was hinted a few times that Heath was sexually abused when he was a kid by his father's girlfriend. I was hoping his difficult childhood would be delved deeper but considering it plays a major role in his love life it balanced it out. The only hold up I had was I wish there was more than one love scene. Yes I'm greedy but I wanted more of these two in an intimate setting, no rush and FTB. But still, loved Heath and Annabelle together. They definitely suited each other perfectly.
And of course it wouldn't be a SEP book without a secondary couple thrown in there. :P The secondary love story focused on Heath's friend and coworker Brodie. He used to be a successful football player at one time. He's one big package of contradictions, which I really liked. The surprise story was he meets Portia Powers, owner of Power Matches a very successful Matchmaking service, and Annabel's stiff competition. I wasn't a big fan of Portia at the beginning. She came off too stiff, brittle, and uptight with no personality. But sure enough once Brodie comes into her life and forces her to loosen up and not try so hard things start to change. They are complete opposites, like day and night which is what made them oddly work so well. I ended up loving them and their 'reunion' scene was really sweet and freaking hilarious. I was cheering Portia on. Girl really needed to find herself and what made her really happy. And Brodie from the very start was so much fun and charming and delightful.
It was also a really nice surprise to see Kevin and Molly and their adorable rambunctious daughter Pipi in this. Oh lord the scenes with her and Heath. Loved them! It was also great seeing Phoebe and Dan and all the other football wives. I'm hoping to see glimpses of Annabelle and Heath in the next book. *crosses fingers*
And I have to say the ending of this was the cherry on top. A really sweet hilarious ending for those two. Yeah it was typical HEA but it was beautifully done, fun and original in it's own way cause you weren't sure what to expect which is my kind of epilogue. ;) Awesome story!